How Much Does Nursing School Cost? While nursing school is a great investment in your future, paying for your education cannot be easy.
Costs for nursing school vary depending on where you go. This includes whether you attend a private school or a community college. It also depends on what program you want to study, such as an Associate or a Bachelor of nursing.
How Much Does Nursing School Cost?
While there is no set price for nursing school, you can expect to pay thousands for shorter programs and up to $80,000 for more advanced or grad school programs.
The cost of tuition at nursing school will vary depending on your education level, whether you are attending full-time or part-time, and what degree you are studying. ReadMore: What are the nursing implications? | 2023 Guide
The cost of a Bachelor's Degree and an RN-to-BSN bridge program will differ. Suppose you are going straight from an Associate Degree in Nursing to a Bachelor of Science in Nursing. In that case, the cost of your degree will also be different. The cost of a community college will be significantly lower than that of a private university.
A community college is the best option for students in nursing. Next, you can choose a state university or a private school. It is impossible to predict how much your degree costs because it all depends on the type of financial aid you receive.
Nursing School Fees by Degree
Remember these differences and the fact that prices can vary greatly; here is an estimate of what you should expect to pay for nursing degrees. However, it is important to check the prices in your local area and speak with your prospective school. Read More: How to Get Someone Admitted To a Nursing Home | 2023
Cost of Associate's Degree In Nursing (ADN).
Your ADN will give you an Associate's degree that allows you to become a Registered Nursing (RN) nurse. ADN programs are often considered more affordable and faster than a Bachelor's degree, though costs can vary greatly.
ADN programs can be completed in as little as 18 months for some programs. However, others can take up to several years, depending on the prerequisites required, the waitlist, and whether you are working full-time. These factors will affect the final cost. However, you can expect to pay between $10,000 and $40,000.
Cost of Bachelor of Science in Nursing (BSN).
The BSN degree has become the standard for RNs. Earning your Bachelor's degree will give you a lot more flexibility in your career and allow you to move up in the nursing profession if you wish.
The cost of a BSN degree is not as affordable as an ADN. Some people may enroll in a BSN program directly, while others might choose to go through an RN-BSN route. Still, others may have a Bachelor's degree from another field.
The National Center for Education Statistics reports that the average cost for a Bachelor's Degree ranges from $72,000 for public universities to over $104,000 for private institutions. This includes room and board, fees, and other costs.
Master of Science Nursing (MSN), Cost
Earning your Master's in Nursing can be expensive. An MSN in Nursing Education could be different than an Advanced Practice Registered Nursing degree, such as a CRNA, CNM, or CRNA.
The National Center for Education Statistics has released statistics showing that the average price for a graduate degree is $48K for public institutions and $108K for private, non-profit schools. Room and board are not included.
Additional Nursing School Fees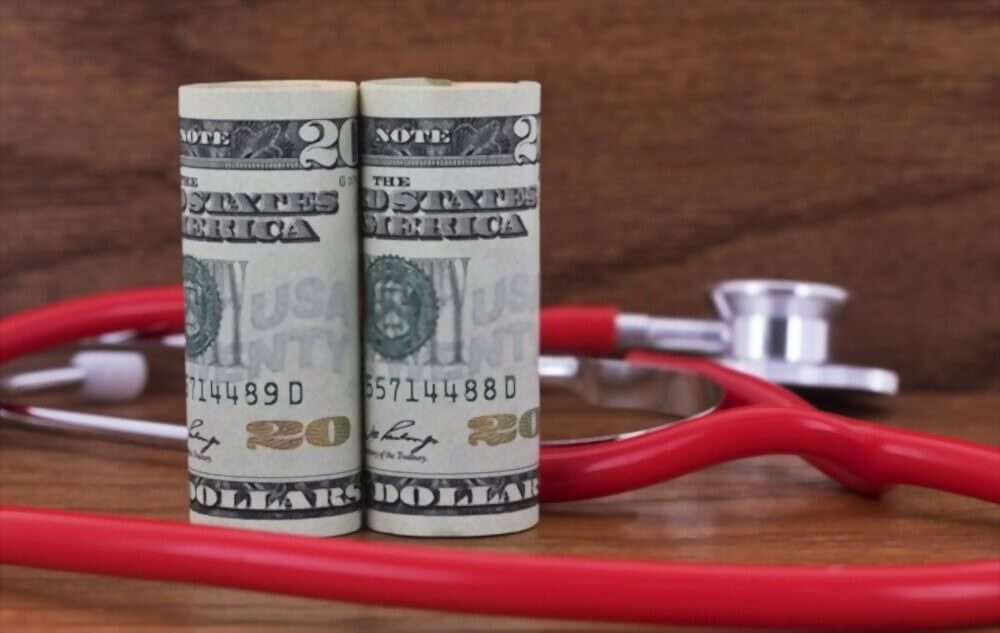 You will need to plan for the hidden costs of nursing school and the tuition. Here's how to budget for nursing school, from the cost of scrubs to any income loss.
Uniforms and Accessories
For your nursing school clinicals, you will need to buy your uniform and accessories, such as a penlight, scissors, and a stethoscope. While most school programs offer a package you can buy directly from them, a standard-issue professional scope such as the Littmann will cost you around $90.
A set can cost as low as $20. However, suppose you are in a back-to-back clinic. In that case, you may consider buying an additional set or two – unless you love laundry. For the record, I could not afford more than one set.
Health costs
As part of your nursing program, you will likely incur health-related costs. These could include a background check, drug screening tests, bloodwork, and booster shots. You may be required to buy your malpractice insurance as a healthcare professional.
Books
It's not a secret that nursing books can be very expensive. One book can cost hundreds of dollars, even for a single nursing class. Book expenses can range from just a few hundred dollars to as high as $700 per semester.
Transport costs
Clinicals are the first step to nursing school. My first day of winter nursing clinical was a memorable one. I blew a tire right as I got down the road and blocked someone else's driveway from getting to work. I can still remember sitting in my car and sobbing that I didn't have the money to buy a new one.
You should budget for additional transportation costs, regardless of whether you drive and need to account for extra miles, gas, and vehicle maintenance or if you are looking for a new route for public transport.
Childcare
Parents will likely require additional childcare for their classes and clinical hours. You may also need extra care for studying outside school.
Income decrease
You may also face increased costs while you are studying nursing. Many people work while in school. However, many must reduce their workload to make more time for clinics, classes, and learning.
Preparation for the NCLEX exam
To become a registered nurse, you must pass the NCLEX-RN exam. The exam costs $200. You will also need to pay for any NCLEX review courses, ranging from $25 to $400.
There are Many Ways to Pay for Nursing School Costs.
Although the hidden costs of nursing school might seem daunting at first glance, they are not a major concern for future RNs. Here's how to pay for nursing school.
Scholarships
Most people view scholarships as something you can only get when you start your college career. However, scholarships can be applied for as you go along with your education.
Do you remember the sad scene where I cried in the snow while my flat tire broke? The next day I received a check from a random nursing scholarship. It was enough to pay for the new tire.
Continue applying for scholarships throughout your school career. You can search online or check with your financial aid office to find local scholarships.
Student Loan Forgiveness
Many student loan forgiveness programs are available for nurses. These programs can forgive all or part of your student loans. They are not for all nurses, but they are worth the effort for those who are.
These are the top 5 loan forgiveness programs for nurses:
Public Service Loan Forgiveness Program (PSLF).
Nurse Corps Loan Repayment Program
State-level Loan Forgiveness
Perkins Loan Cancellation
Nursing Students Cancelled by the Military
Employer tuition assistance
You should check with your HR department if tuition assistance is available for those currently working in healthcare.
If you are certain about where you want to work after graduation, ask them if they would be willing and able to help you.
Secondhand and used
Unfortunately, school uniforms are not allowed to be worn again after graduation. However, this does not mean you can't buy scrubs from the same grads every semester. Price. You can check to see if your school has a Facebook group or a used scrub sale at the end of the semester.
The same applies to books. Make sure you check the school's bookstore first before purchasing new books. I used the syllabus to find the needed pages and then copied them from the library. Although it's not something I recommend, it does cost dollars and not hundreds of dollars. Many books can also be bought as e-books, which are much more affordable than physical books.
Don't be afraid, last but not least, to ask your instructors which books they recommend you buy and which ones can be skipped. This strategy was something I used throughout my nursing program. It worked for me.
Positions available for work-study
A work-study job is a great option for student nurses. They pay a fixed salary and allow you to study while also giving you valuable experience in the field. For example, you might be able to work as a student nurse while helping a professor with their daily tasks.
You will be eligible for work-study jobs through your financial aid package. Please fill out the FAFSA as soon as you finish your education and update it whenever anything changes.
Nightshift Work
Experimenting with the best schedule for you, your family, and your mental health might be necessary. You might be able to make money, depending on your clinical area, while still making it to class. This is my personal experience. I found that studying during the early morning allowed me to squeeze in some study time.
Many factors can affect the cost of starting a nursing career. While you might have your "flat tire" moments, you should remember that investing in a degree will make a difference in your life and the lives of those you care about.